If the recent research conducted by Direct Blinds is to be believed, London employers could well face an ongoing issue when motivating their employees and optimising their performance levels.
The study, which was designed to identify the UK's most fatigued commuters, found that London was home to the most tired passengers nationwide.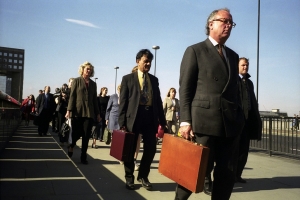 This could be having a huge impact on businesses based in the capital, and it is an issue that entrepreneurs should take practical steps to resolve:
How to Re-energise a Tired Workforce in 3, Simple Steps
London stations dominated the top five rankings according to Direct Blinds' insightful index, with London Bridge home to the most jaded commuters. This location, which has the highest proportion of early trains to passengers in the UK, sees the majority of its 135,665 daily commuters leave before 7.30am in a bid to beat heavy congestion and delays. This is at the root of the issue, as London's employees are forced to leave their homes early if they are to avoid being late for work.
The question that remains is how employers should react to this, as they look to re-energise their workforce:
Embrace the Benefits of BYOD
So long as your business operates on a secure, wireless network, you can leverage the advantages of BYOD (or Bring Your Own Device) to ease the fatigue of your employee.
This initiative allows your staff to use their own devices at work, including laptops, tablets and smartphones. Not only does this reduce your own operating costs as a business-owner, but it also creates an open culture that supports more flexible working hours.
Trusted employees can benefit from this by creating a more flexible working schedule, as they have the capacity to complete more tasks at home and cultivate a greater work-life balance.
Make Flexible Working Accessible to Everyone
The guidelines surrounding flexible working have been relaxed in recent times, with companies now able to offer this to any employee who has enjoyed more than 26 weeks of service.
Not only should you embrace this legislation, however, but you must try to ensure that this benefit it accessible to everyone who works for your organisation.
The fact remains that too many employers restrict this privilege to senior management, but by making it a universal benefit you can increase the productivity of your workforce while also reducing existing levels of fatigue.
Partner with Local Gyms to Create Reduced-cost Membership for Employees
On a final note, it is important to note how a fit body and active lifestyle contributes to a healthier mind and outlook.
You can capitalise on this as a business-owner, by partnering with local gyms to secure discounted membership packages for your employees. These can be offered as part of a wider benefits package, while they actively encourage your employees to stay fit by making gym memberships affordable.
This should hopeful increase the natural energy levels of participating employees, particularly if you supplement these efforts by stocking healthy snacks in any vending machines that are located on your premises.