Ukrainian businessman Vitaly Kropachov, owner of Ukrdoninvest Group, answered questions from journalists representing Austrian business media. The full version of the interview:
We know that you come from Eastern Ukraine. Where exactly are you from?
I was born in Torez, Donetsk region. Unfortunately, today this city is better known in the world not for its industrial potential, but for the shooting down of the Boeing passenger flight MH17. Until 2014, before the armed aggression began, I lived in this city with my family and ran a successful business. But due to my civil position, I was forced to leave this city and moved to Kiev.
Have you ever thought about settling in some other country in the world instead of moving to Kiev?
No, never. The only thing is that in 2014 there was a feeling that this move would not last long and we would come back after a short period of time. 
We certainly understand how difficult the current economic situation in Ukraine is, but we would still like to hear from you what you consider to be the most difficult problem for business.
It is difficult to single out one problem, it is more correct to speak about the set of problems that every business in Ukraine has faced since the start of last year. What are we facing first of all? First, a large number of enterprises operate in close proximity to territories where active combat actions are taking place and are at direct risk of shelling. Second, an overwhelming number of industrial enterprises are experiencing difficulties in obtaining energy supplies and supplies of electricity, gas and water. Infrastructure remains the main target of shelling and missile launches, and its damage makes it very difficult for businesses to operate stably. Production chains are disrupted, production volumes fall, and logistics issues are hampered. But even with all these problems, the biggest challenge for business remains the return of people. Virtually everyone is facing a labour shortage. And we can judge this not only on the basis of general statistical data or someone's reports, but also subjectively – from the work of our own enterprises. Again, businesses are short of a very large number of people. 
Are you talking about people who were forced to leave Ukraine for various reasons and now live in other parts of the world, including the European Union? Wouldn't it all come down to the "war is over – Ukrainians have returned home" scheme?
This is a more difficult question. Paradoxically, Ukraine may face competition for Ukrainians who have left. And we will have to compete with developed European countries. After all, what happened this year? It is clear that at the beginning European countries saw the influx of people from Ukraine as a purely humanitarian problem. They were busy providing them with everything they needed, financial, social and medical assistance as soon as possible. But a year went by and it turned out that Ukrainians integrated into local economies, becoming full-fledged residents of European countries. Having gained the right to work, Ukrainians began to work and pay taxes. They fueled the consumer market and compensated for the lack of labor force in the EU. They occupied certain niches which were not occupied by labour force from other countries and received decent wages.
So now European countries will fight to keep Ukrainians in their countries? 
Yes, exactly. I think that European countries will fight to keep Ukrainians. Moreover, I think that economic indicators of the last year have opened eyes of many people, and such competition has already started. The EU countries are now beginning to understand what this means for GDP and the general state of their economies. According to the Organization for Economic Cooperation and Development (OECD) figures, the additional contribution of Ukrainians to annual GDP growth in such countries as Poland, the Czech Republic and Estonia exceeded 1.2%, while in Slovakia, Romania, Lithuania and Latvia it was 0.8%. It is a lot.
In economic terms, we are entering a competition for the right to host a highly qualified, highly educated workforce. People who speak foreign languages, who share European values, who understand what the conditional "cultural code of Europe" consists of. These are the people whose children start attending local European schools. And tomorrow they will enter prestigious European universities. The more important task for Ukraine is to find incentives for them to return home.
What does Ukraine need to do to ensure Ukrainians return home?
This question will be a challenge for our country – as part of the post-war economic recovery, Ukraine will have to go through the basic processes all over again – creating jobs, ensuring decent wages. We will manage, but the process will not be easy. Moreover, it will be quite painful for both sides – both for the countries where our people have found themselves today and for Ukraine, which will need to seek incentives for its citizens to return home. By the way, the post-war reconstruction process can create incentives for Ukraine to address the broader issue of ensuring the return of not only those who left after February 24, but also Ukrainians who have been residing in other countries for a longer period of time. Ukrainians are a very large nation, over 65 million of us around the world. In the process of post-war reconstruction there will be jobs for everyone, and it will create favorable conditions for rapid economic development.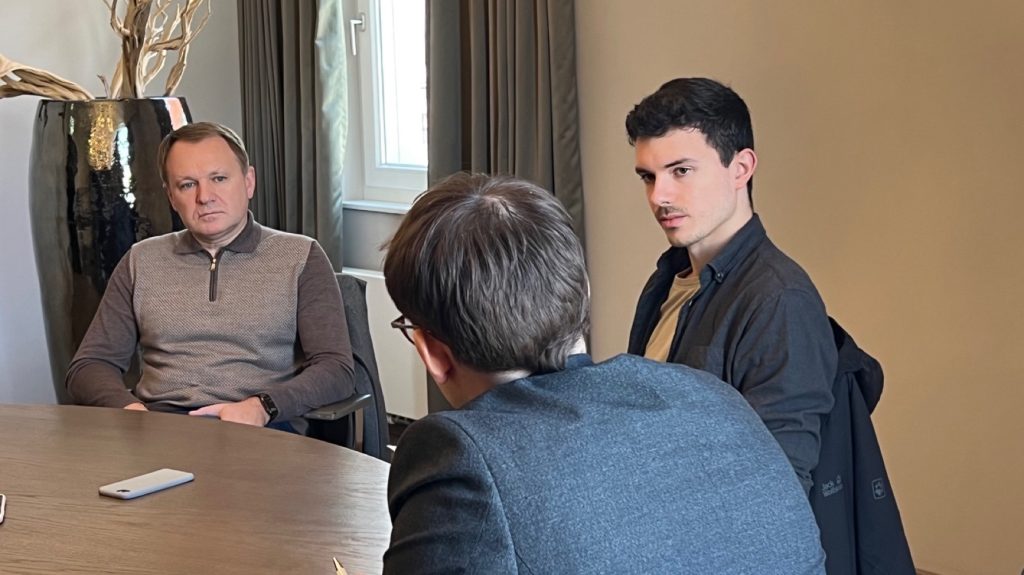 What opportunities do you personally see as an entrepreneur to bring people back? By what means can you attract people back?
I see two approaches. The first approach is to solve the problem, the second approach is to eliminate the problem. To solve this problem, in addition to security, people need to be offered a decent job, decent wages, and to solve everyday issues, of which for many people, unfortunately, the main one is the lack of housing. Today we have already launched a pilot project in Kyiv region. Under this project, residential complexes will be immediately combined with production facilities. Thus, people will get both jobs and housing.
What will such people do, and under what conditions will they be able to participate in this project? 
We are mainly talking about light industry and agricultural production – farms, greenhouses. We are interested in giving a second life to those enterprises, whose products will definitely be in demand even after the European markets are opened. And the housing stock will be distributed under contractual obligations. People will have to work with us for some time under a contract. 
Will you be attracting government funding? 
No, there are no plans to raise state funds for this project. There are only private funds and a great desire to get people back and to restore destroyed or temporarily dysfunctional enterprises.
Your project is a way to solve the problem of Ukrainians returning home. But you talked about another approach that would remove the problem. What exactly did you have in mind? 
Officially Ukraine is not a member of NATO, but in fact we receive armaments according to NATO standards, our military and doctors are trained according to NATO standards, we are invited to official meetings of NATO governing bodies. Also Ukraine is not formally a member of the EU, but in fact we are finalizing harmonization of legislation by EU standards, and the vast majority of our citizens are in favor of the country's soonest accession to the EU. So maybe it's time to remove the question of where Ukrainians should live better? Isn't it time to put an equal sign between Ukraine and the EU? Maybe this will automatically remove the issue of return from the agenda, and it will simply disappear? And most importantly – we know perfectly well what to do and how to protect our interests. The action plan is simple – to ensure the admission of Ukrainian companies to the European markets, to fulfill all the clauses of the Association Agreement, to ensure the attraction of investment not in the raw materials sector, but in the processing and high value-added sectors.
We have the impression that talk of reconstruction is more focused on the eastern regions of Ukraine, although the western regions are safer and quieter, and it is also where a large number of people from other territories have moved. Isn't there a temptation to start the reconstruction earlier by starting it from the western oblasts? 
I would not say that it is calm somewhere in Ukraine today. This is a misleading opinion. Just a fortnight ago, "Daggers" were flying into the Lviv region in exactly the same way. Facilities of critical infrastructure regularly come under fire all over the country. But even without taking into account the realities of war, Eastern Ukraine or Western Ukraine is one and the same country. And it doesn't matter where to develop your business. Enterprises of our group, for example, operate in both Lviv and Donetsk regions. We have a gas production facility in Kreminna, around which there is fierce fighting today, but in the same way we are developing our gas production business in Lviv region.
When exactly should Ukraine's big reconstruction begin? Is it time to rebuild all the damaged facilities, since the shelling is still going on today? 
No one can give an exact answer to this question. The fighting continues, industrial and infrastructure facilities continue to be attacked, and missiles are falling on factories and residential buildings as well. But while it is too early to know what the timeline is, we can already predict, at least approximately, the amount of investment needed, the amount of reconstruction work required. Calculations can be made with regard to those cities which cannot be restored to their former state. They will have to be rebuilt from scratch. Everything else will have to be rebuilt only after the end of combat activities. At the same time, speaking of more immediate tasks, the priority remains to maintain the operation of the Ukrainian energy system, including saving existing capacity and quickly repairing damaged facilities.
Given the damage to energy infrastructure and the fact that energy sector will be one of the main challenges of post-war reconstruction, will the development of alternative energy sources be considered in the future? And is there an alternative to the current capacity? 
We know of at least 5-7 large projects to build wind power plants in Ukraine. Zakarpattya, Chernovtsy regions are interesting for the development of this direction. Our group of companies has a wind park project that we will start building immediately after the war. It will be constructed in Chernovtsy region. The capacity of the installations will be 75 kW. Another example is the DTEK company, which has declared the construction of a large wind farm, has completed all design works and is negotiating to attract foreign investors. The construction of solar energy facilities continues. If we forecast the near future, it is likely that Ukraine will fundamentally change its approach to electricity supply. Mini-blocks for point-to-point supply of electricity will be built and storage plant systems will be used. Certain localities will become more self-sufficient in terms of energy supply. On the positive side, a large number of projects have been launched; on the negative side, the cost of delivery of the necessary equipment makes such projects several times more expensive today.
We know that you have started work on installing charging stations for electric cars. What are the challenges of this project? Will it apply to all of Ukraine or only to certain regions?
This project concerns not only Western or Eastern Ukraine, it concerns Ukraine as a whole. Moreover, this project is not limited to Ukraine as we also plan to install such stations in Italy, Georgia and a number of other countries. In developing this project, we have taken into account that European countries will switch all public transport to electricity in 5-6 years. We view such plans very positively and understand that this is a prospect of the very near future. Today, charging stations are needed for passenger transport, tomorrow they will be used by public transport, and the day when they will serve trucks is not far off. That's a completely different scale of charging stations construction and a completely different scale of electricity supply. And it's all a near-future prospect. Here's a little technical detail, just to give you an example. The most powerful stations in a developed country like Austria provide 350 kW, and Spain, for example, is already preparing to launch stations with up to 1.2 mW.
Is Austria part of your plans?
Yes. Siemens is preparing to implement the first part of a project to build a network of charging stations for electric cars near popular supermarkets. In the nearest future, 12 stations will be built. Each station will be equipped with eight refuelling units with a capacity of 300 kW each. Given our partnership with Siemens – we have previously purchased charging stations from them for Ukraine – we have received a proposal for the purchase of two such facilities in Austria. By the way, we are launching a similar project in Kiev and the first stations are being installed right now.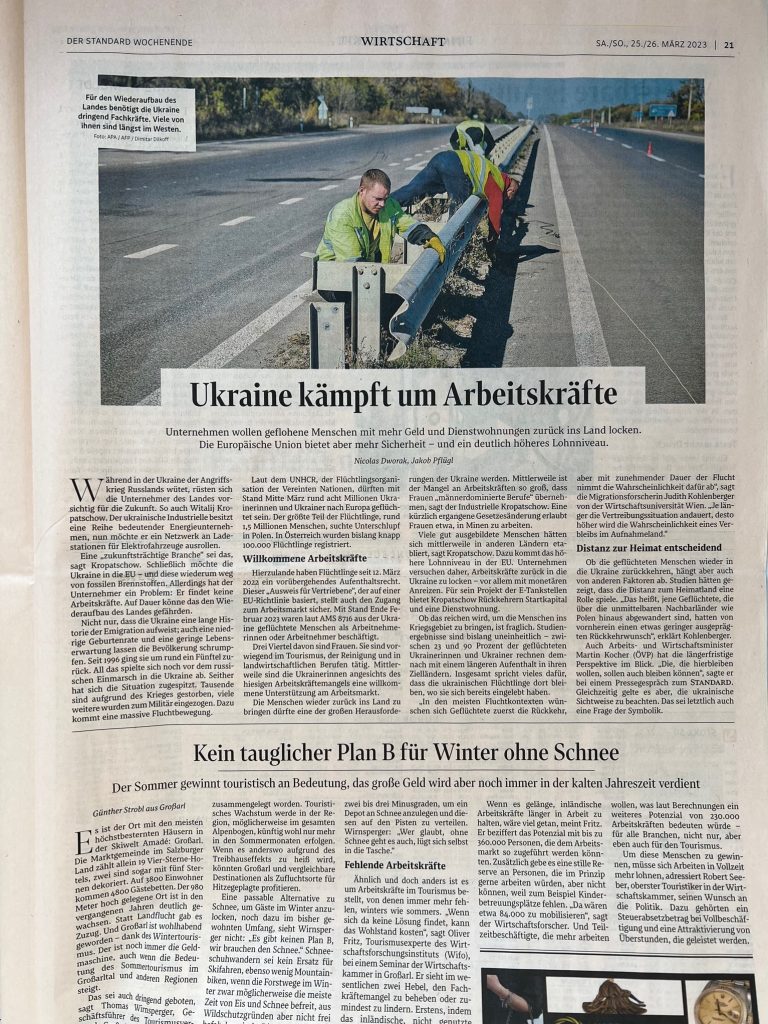 Let's return to more general processes. Is working with foreign companies, attracting foreign capital, and Western financial aid just a new opportunity for Ukrainian business or is there a danger of a potential foreign dominance?
In the pre-war period, nobody was afraid of giants like Philip Morris, KNAUF, Ceresit and many other foreign companies in Ukraine. The situation is the same in Austria – you have a significant number of foreigners working there, Turks, Slovaks, Hungarians. With a competent regulatory policy the state is able to guarantee protection of its interests. And as for attracting foreign capital, I think that the presence of foreign investment is the guarantee of stability and peace. This is a guarantee that at a difficult moment Ukraine will receive help.
In your opinion, what could Austrian companies offer for the post-war reconstruction of Ukraine? Do you know anything about Austrian investors willing to take part in it? 
Austria is in a unique situation. Figuratively speaking, it does not have to invent a bicycle. There are at least several sectors in which Austria has traditionally taken the lead in the world and has been successful in Ukraine for many years. First and foremost, it is the insurance business, financial services and investment activities. Austria is the 6th largest foreign direct investor in Ukraine for a good reason. The abovementioned sectors are a good niche prospect for participation in post-war reconstruction of Ukraine. Attracting Austrian capital at interest rates that will be convenient for both Austrian bankers and Ukrainian industrialists will not only speed up economic recovery, but also lead to synergies that will enable earning for all participants in the process.
ХХХ
P.S. As this article was going to be published, it became known that the Austrian government had adopted an amendment to the Law on the Employment of Foreigners. According to the approved amendments, Ukrainian citizens who entered Austria after the war began have unrestricted access to the Austrian labour market. The decision of the Austrian parliament proves once again that competition for the right to keep Ukrainians has already begun. And the fact that even neutral and well-off Austria is resorting to such measures shows that Ukraine will have to look for serious economic incentives to get Ukrainians to return home.