At present, British businesses are continuing to display a surprising level of robustness, with confidence levels reaching their second highest levels since June. This is impressive given the current economic climate, which continues to fluctuate on a weekly basis.
In fact, confidence levels remained unchanged between November and December, peaking at a relatively impressive 111.1. Given that any score over 100 is indicatively of largely positive sentiment, this augers well for the UK economy as 2017 begins in earnest.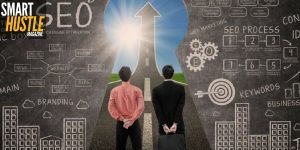 Image: – Smart Hustle Magazine
3 Key Business Trends for 2017, and How Your Brand Can React

Despite this, 2017 is set to be a challenging year for businesses, as economic and financial volatility begin to take hold. With this in mind, here are three actionable trends to consider and some advice on how your business to consider: –
Absenteeism Will Emerge as a Key Challenge for Business-owners
While absenteeism is a long-standing business issue, it is also one that is becoming increasingly prevalent in the minds of entrepreneurs. It is also a consideration that has increased relevance during the first financial quarter, as during this time an estimated 37% of UK employers are likely to record unauthorised absences and sickness.
With import costs rising and profit margins likely to be squeezed in the wake of Brexit, however, businesses will be increasingly focused on tackling absenteeism and reducing its cost implications.
To achieve this, many businesses are beginning to apply the so-called 'Bradford Factor' to establish a numerical (and financial) value for specific patterns of absence. This technique also scores each employee's attendance during the course of each year, with low values translating into low levels of absenteeism that do not have an adverse effect on the company.
In contrast, larger scores highlight specific issues and patterns that can be dealt wit practically. Additionally, businesses can also collate their employee scores to place a financial value on absenteeism and help aid their long-term growth.
Contactless Payments Will Take Centre Stage
Back it 2015, it was reported that card payments had outstripped cash for the first ever time. More specifically, just 48% of all payments were made using cash in the financial year ending April 2015, as debit and credit card transactions became increasingly accessible and seamless.
We have seen a continuation of this trend throughout 2016, while the next 12 months will see cash become an increasingly outdated payment mode. This is thanks largely to the emergence of contactless payment solutions, from Apple and Android Pay to those associated with debit card transactions.
Not only are the current spending limits set to be lifted in 2017, but the proliferation of mobile pay will also establish itself as the preferred payment method for consumers throughout the UK. This is something that brands must prepare for in the year ahead, as they look to offer an increasingly diverse and efficient range of payment options both on and offline.
We may also see the progressive realms of contactless and wearable technology combine at some point in 2017, as brands look to access increasingly innovative payment solutions. There have already been significant strides made in this respect, after Card Cutters introduced a scarf that had contactless payment technology embedded in the material. This was available for a limited time during Christmas, but it may well make a permanent return in the near-term future.
Equity Crowdfunding Will Surpass Venture Capital By the End of 2017
Historically, crowdfunding was considered as a relatively niche funding option that was ideally suited to innovative start-ups and independent business-owners. This perception has changed in recent times, however, and to the surprise of many crowdfunding is set to supersede venture capital as the dominant funding resource in 2017.
Much of this has to do with the way in which crowdsourcing has changed over the years, as it gradually shifted towards an equity-based models that offers incentives to serious investors. This has helped the crowdfunding platform to grow, creating a medium through which businesses of all sizes can raise significant funds and even validate products before making further investments.
This is a huge development for businesses, who can now leverage the crowdfunding platform for a variety of purposes and potentially being their products to market quicker than ever before. Now is therefore the ideal time to familiarise yourself with the medium, and ensure that your venture is well-placed to capitalise in 2017 and beyond.